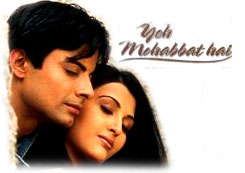 http://www.bollywoodbx.com/assets/uploads/old_files/films/23/2_223_lg.jpg
Story
Shaheen (Akanksha) is the only daughter of Aman Khan (Danny Denzongpa), a respected and powerful businessman of Gulnagar. Chand (Rahul Bhat) is the pride of joy of Bashir Khan (Parikshit Sahni), Aman Khan's honest business manager.

Some lovers play truant in love, others play hide and seek with their parents, but Chand dons cricket gloves and pads, as he leads his amateur team against Akram Khan. Throughout the game, Chand tries to win his prospective father-in-law's heart by allowing himself to be beaten in the match.

Amidst all this fun and frolic, Chand gets a fax, which informs him that his team has been selected to participate in an amateur cricket competition to be held in Mumbai. He is ecstatic and thrilled with the idea of travelling there with his friends. But the joy is shortlived.

Shaukat (Mohnish Bahl), Aman Khan's nephew, is the proverbial thorn in the bush. Hand-in-glove with dreaded militant Abdul Jamil (Arbaz Khan), he transports explosives in Aman Khan's assignments of dry fruits and apples, to his mercenaries in different parts of the country.

Chand is misled into carrying a seemingly harmless parcel of cricket bats with him and leaves on a journey, unaware of the road that lies ahead of him. For, the parcel of bats, which they had harmlessly carried with them, is RDX.

When Abdul Jamil's men come to take delivery of RDX, Inspector Chivte (Sadashiv Amrapurkar), acting on a tip off, raids the premises. All hell breaks loose as Abdul's men open fire on the police and one by one, Chand's friends are caught in crossfire. Chand goes mad in rage and grief as he sees his friends gunned down in front of his eyes. The RDX blows the place to smithereens. Chand is framed and believed to be a terrorist.

An uproar takes place in Gulnagar as the news of the death of the children reaches the ears of the loved ones. However, Shaheen refuses to believe that her lover is responsible for the deaths of his friends.

A year later, Gafoor Khan (Avtar Gill) asks for the hand of Shaheen for his son. The two families have shared a long relationship; in fact the economy of Gulnagar is dependent on the dealings with Gafoor Khan. Yielding to her father's pleas, Shaheen agrees to be the sacrificial lamb. As Shaheen weeps in her room, the phone rings. She gets to know that Chand is alive. What happens next?