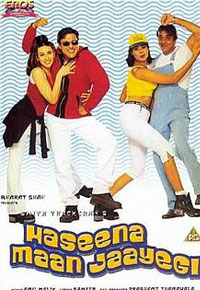 http://www.bollywoodbx.com/assets/uploads/old_files/films/5/2_55_lg.jpg
Story
The film is about two brothers Sonu (Sanjay Dutt) and Monu (Govinda) who live life carelessly as they know their father Amirchand (Kader Khan) is gong to leave behind his riches to them. Amirchand is exhausted by the pranks played by his two sons on him to gain some money. Amirchand does not want to give his son money because he knows they are going to waste it. Amirchand's secretary Kunj Behari (Satish Kaushik) suggests his boss to separate the brothers to make them more responsible. Amirchand decides to send his son Sonu to Goa to fetch money from a debtor and Monu to his office.?

In Goa, Sonu by mistake insults Gulzarilal (Anupam Kher) thinking him to be his father's debtor and falls in love with his daughter Pooja (Pooja Batra).

Out here in Bombay Monu is in love with Ritu (Karisma Kapoor). But both are unsuccessful to blossom the flower of love in their dream girls' hearts. Sonu is the first to taste success but now he has to convince Pooja's father Gulzarilal. So in comes Monu to help his brother impersonate as Sonu's uncle. Monu comes to know that his love Ritu is also the daughter in the same house where he is staying. Monu thinks it will now be easy to win Ritu's heart. He manages to do that but in the interlude sister's aunt Santosh (Aruna Irani) falls in love with the uncle - Monu.

Amirchand decides to go to Goa with his secretary and get his sons back. He meets his friend Gulzarilal while searching his sons. In the end all the confusion is solved as everyone comes to know that Amirchand is the real father and he has no brother.