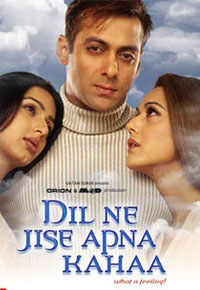 http://www.bollywoodbx.com/assets/uploads/old_files/films/29/2_379_lg.jpg
Story
After an unsuccessful stint in acting a few years back, Atul Agnihotri (Salman Khan's brother-in-law) makes his directorial debut with the movie Dil Ne Jise Apna Kaha. The movie is made by the producers of Tere Naam and stars Salman, Preity Zinta, Bhumika Chawla in the leading roles.

In the movie, Salman plays a suave businessman Rishabh who runs a media company in partnership. He is totally smitten with a beautiful girl named Pari (Preity). Pari is a doctor by profession and has a dream of starting a charitable hospital for the poor.

Life seems hunky dory for the two until a twist of fate changes it all when Pari has a fatal accident and Rishabh is left alone, devastated and in despair. The only thing that pulls Rishabh out of his depression is his determination to fulfill Pari's dream of a charitable hospital.

It is around this time he meets Dhani (Bhumika), an out-of-the-ordinary girl with the quality of appreciating small joys and pleasures of life. Dhani too has been through the rough-and-tumble of life and has learned to take things in her own stride.

Dhani's presence brings a new lease of life to Rishabh. As the two spend more time together, they feel inevitably drawn towards each other.

But in his heart Rishabh cannot let go of his memories of Pari. He has to make a choice. Moreover, his dilemma is further strengthened by a shocking revelation by Dhani about herself.

Rishabh finds himself at the crossroads where he must make a decision. Either he continues to live with the memories of his lost love Pari, or he embraces life once again and finds love in Dhani.